Lash Champions League 2017
---
The internernational extension eyelashes competition, in its second edition, was carried out under the banner of beauty, perfection, fun and a thousand of otheremotions.

Compared to the previous edition, this time, we grewlarger in everything: more nominations, cathegories butalso the number of participants, fabulous judges and fantastic sponsors increased.
This is the indisputable signal showing that this greatprofession is coming into fashion also in Italy.
Special thanks to the online ART-WORK participantswho, from all over the world, made us feel greatexcitement and throwed us in a fancy and fantasticBarbie world (l'ultima frase riguardante il tema barbie ho dovuto cambiarla un pochino, ma il senso è quello).
Well done to all winners that have been the best of the best. They showed the highest level professionalismsince judges have taken into account numerousaspects: the execution tidiness, the thickness and lenght choice, direction, distance, symmetry, effect, filled space, etc.
Well done also to all the other participants that provedtheir great abilities and skills and also showed us that, with strong passion they will not stop on improving and prove themselves!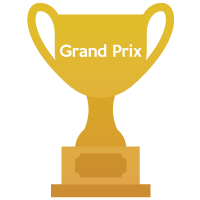 Tetiana Shaburova
Lash Champions League Gala
---